last week we had some bold color...this week we have bold color AND bold shapes.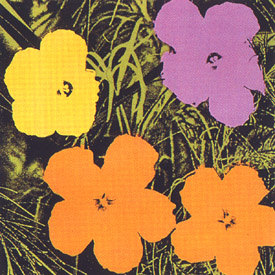 It was actually really difficult for me to find a "now" counterpart for this print by Andy Warhol. I love the inverted photographic element, the coloring, and the overall composition. Trying to find one took some time with google, but then I remembered the work of
Amy Rice.
Particullarly her
zinnia
series which i saw up in NH at
Artstream Gallery
.
But i thought this tiger lily painting works along side the Warhol print even better. Check out the rest of Amy's work...they are beautifully narrative.